Design
Refrigerators
Fridge-freezers
Freezers
Wine units
Installation location
Freestanding
Integrated
Undercounter
Niche width
91.5 cm (36")
76.2 cm (30")
60 cm
55 cm
45.7 cm (18")
Niche height
213.4 cm (84")
177.2–178.8 cm
152.4–158 cm
140 cm
122–127 cm
102 cm
87.4–89 cm
82–87 cm
45 cm
Appliance width
75 cm
70 cm
60 cm
55 cm
Appliance height
More than 185 cm
Between 140-185 cm
Between 100-140 cm
Less than 100 cm
Refrigeration appliance convenience features
Wine unit convenience features
MasterCool convenience features 
Domestic appliance networking

UV protection
The best protection for valuable wine: glass door with integrated UV filter.

NoteBoard
For individual labelling: every bottle rack features a removable, magnetic strip for labelling bottles on the rack.

PerfectFresh
Fresh for up to 3x longer: The perfect storage temperature for fruit, vegetables, fish, meat and dairy products.

SommelierSet
Thought of everything: chilling glasses, preparing wine for decanting and conditioning open bottles to perfection.

FlexiFrame
Just one movement: move individual slats so that large wine bottles are easy to store.
Sabbath mode
The Sabbath mode serves to support religious customs. The interior lighting, all acoustic signals and the actual temperature display are all switched off when the appliance door is opened. The refrigerating and/or freezer performance of the appliance is not hindered in any way by the Sabbath mode, because the compressor continues to function.
Additional digital offer from Miele & Cie. KG. All smart applications are made possible with the Miele@home system. The range of functions can vary depending on the model and the country.

Blackboard edition
Make it individual: write and draw on the appliance front with chalk pens.

Click2open
Opening made easy: even handleless appliances can be opened with ease thanks to the lever action.

DailyFresh
Improved freshness for fruit and vegetables: The roomy drawer with adjustable moisture.

My Ice
Fresh ice cubes any time: the automatic IceMaker with integrated water container for up to 100 ice cubes a day.

MasterCool – SommelierSet
Everything you need to chill glasses, prepare wine for decanting and condition open bottles to perfection. 

MasterCool – MasterSensor
Convenient operation: numerous settings can be configured with the tap of a finger. 

MasterCool – BrilliantLight
Soft and attractive: high-quality LED strips offer perfect illumination and a beautiful lighting mood.

MasterCool – MasterFresh
Ideal climate: food stays fresh for up to 3 times longer due to perfect temperature and humidity.

MasterCool – Push2open
This unique appliance integrates perfectly into handleless kitchens, as the door opens when you press the front.

Connected Home with Miele@home*
With our innovative Miele@home system, you can exploit the full potential of your Miele appliances and make your everyday life even smarter. All intelligent Miele domestic appliances can be networked conveniently and securely. Operation is simple – whether you use the Miele app, voice control or integration into existing smart home solutions. The appliances are networked via a home WiFi router and the Miele Cloud.
Additional digital offer from Miele & Cie. KG. All smart applications are made possible with the Miele@home system. The range of functions can vary depending on the model and the country.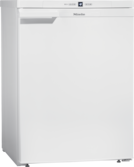 FrostProof
FrostProof ensures that the appliance functions even at ambient temperatures as low as -15 °C. If the temperature falls below +10 °C, efficient operation is ensured. The appliance can therefore be used in unheated rooms such as garages.

PerfectFresh Active
An ideal climate: active humidification and the perfect temperature keep food fresh up to 5 times longer.

FlexiLight 2.0
Entirely glare-free: the illuminated shelves can be custom-positioned in the refrigerator for maximum flexibility.

PerfectFresh Pro
Long-lasting freshness: ideal temperatures and high humidity keep fruit and veg fresh up to five times longer. 

IceMaker
Fresh ice, fully automatically: produces up to 100 ice cubes per day with ease thanks to fresh water connection.

DailyFresh ExtraCool
The ExtraCool drawer with particularly low temperatures – perfect for meat, fish and dairy products.brCombined with the extra large DailyFresh drawer which keeps fruit and vegetables fresh up to two times longer.br 

Freeze&Cool
New possibilities: use the freezer as a fridge and benefit from even more storage space.
Additional product features
Product features based on your selection
Product features not included
Additional recommendations:
Show all results
Show fewer results
Subject to technical changes; no liability accepted for the accuracy of the information given!